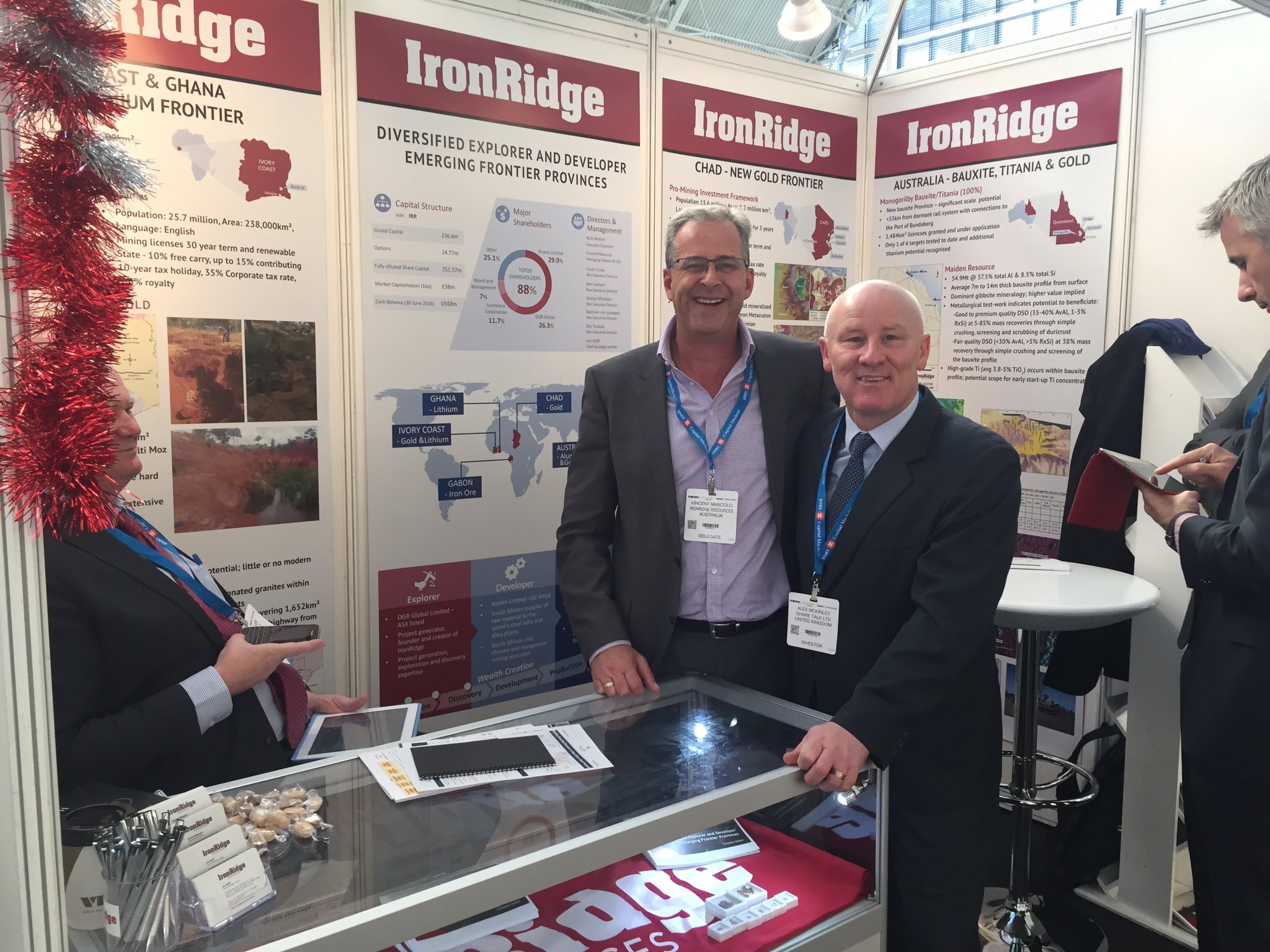 IronRidge Resources Limited (AIM: IRR, 'IronRidge' or the 'Company') is pleased to announce that it has entered into a conditional agreement with the main shareholders of Tekton Minerals Pte Ltd ("Tekton"), to acquire their interests in Tekton. AB Mckinley from Share Talk caught up with Vincent Mascolo, CEO of IRR this morning…
The agreement is conditional on IronRidge securing agreements from the remaining shareholders of Tekton, representing 10% of Tekton's issued share capital, which will give 100% ownership of Tekton and its promising underlying gold exploration projects in Chad.
To listen to AB Mckinley's chat with Vincent Mascolo CEO, check the podcast below.
HIGHLIGHTS:
Ø IronRidge to acquire 100% of Tekton Minerals Pte Ltd.
Ø As part of the acquisition, Tekton's highly skilled technical and logistics team will join the IronRidge team to advance the projects and future growth strategies.
Ø Dorothe key target zone 1km x 3km artisanal workings and 1km x 200m parallel vein zones.
Ø Extensive 10,652m trenching and 9,768 soil sampling programmes completed over the Dorothe and Echbara license areas prior to onset of wet season.
Ø Approximately 15 tonnes for 10,562 samples have been packed and ready for shipment to an accredited lab for preparation and analysis.
Ø Field mapping observations and mineral occurrence multi-element geochemistry metal associations indicate potential for an Intrusion Related Gold System ("IRGS") exploration model; potential for significant scale and high-grade discoveries inferred.
Ø The Ouaddaï Province represents a potential analogue of the 'Tintina Gold Province' in the Alaska and Yukon Territory.
Ø New artisanal mining sites discovered showing ubiquitous visible gold.
Reference to figures and tables relate to the version of this release on the Company's website (www.ironridgeresources.com.au) or visible in PDF format by clicking this link.
Commenting on the Company's latest progress, Vincent Mascolo, Chief Executive Officer of IronRidge, said:
"We are extremely pleased with this latest acquisition which is part of the execution of our vision and growth strategy for Africa.
"The Chad portfolio represents a highly prospective ground holding with high-grade gold targets within an underexplored yet highly prospective gold Province, potentially analogous to the world class Tintina Province in the Alaska and Yukon Territory.
"The size and extent of artisanal gold workings and the ubiquitous occurrence of free, visible gold endorse our strategy.
"The Tekton team offers extensive francophone exploration, logistics and government relations expertise gained throughout West and Central Africa, providing valuable synergies with the IronRidge team and its growth strategy.
"We are very pleased with the work programs completed to date and look forward to keeping shareholders and investors updated as more news becomes available."
Commercial Terms of Acquisition
As announced on 21 September 2016, IRR entered into an investment arrangement with Tekton under which IRR had rights to invest US$3.5 million in Tekton over an 18-month period to acquire up to a 58% interest in Tekton. IRR also announced that it had separately acquired a 6% interest in Tekton. Ownership in Tekton provides IRR with access to exclusive rights to an extensive granted tenure package with first mover advantage and associated exciting gold exploration targets with large scale and high grade potential (the 'Projects') in Chad, Central Africa.
Under the new agreement, IRR proposes to acquire 100% of Tekton in return for the issue of 10,000,000 shares in IRR. This will equate to a 4.1% interest in the share capital of IRR. The initial agreement has been entered into with the 4 principal shareholders of Tekton ("Sellers"), of which 3 are on the board of directors of Tekton and hold a combined total of 84% of the issued share capital of Tekton. This agreement is subject to IRR securing sale agreements with the 14 remaining shareholders in Tekton who hold the balance 10% of Tekton shares. IRR and the Sellers will now embark on securing these agreements to enable completion of the acquisition of Tekton.
The new agreement is also subject to IRR entering into new employment agreements with the Sellers with respect to their on-going management roles with IRR and IRR shareholder approval for the acquisition.
The acquisition of Tekton will supersede the current investment arrangements with Tekton which will be terminated upon completion of the acquisition of Tekton.
Related Party Transaction
Two of IronRidge's directors, Nicholas Mather and Vincent Mascolo are directors of Tekton. The Tekton Board arrangements may give IronRidge control of the Tekton board. This transaction is therefore being treated as a related party transaction pursuant to AIM Rule 13. The independent directors of IronRidge (being all the directors of IronRidge other than Mr Mather and Mr Mascolo) consider, having consulted with the Company's nominated adviser, that the terms of the transaction are fair and reasonable insofar as the Company's shareholders are concerned
Project Update
Since announcing commencement of the trenching programme at the Dorothe Project (announced 23 February 2017), the Company has moved aggressively to complete a total of 10,652m of trenching and collection of over 9,768 soil samples at the Dorothe and Echbara Projects over the last 3 months.
Trenching was completed utilising a 30 tonne excavator with a total of 4,444 x 2m composite samples (including duplicate, standard and blank samples for QA/QC) sampled across both project sites and employing channel sampling techniques of 'fresh rock' exposed along the trench walls or floor.
In addition to the completion of trenching, the Company completed systematic soil sampling programmes across significant portions of both license areas, targeting key structural corridors, lithological target zones and/or new artisanal mining sites. A total of 9,768 soil samples (not including QA/QC samples) were collected across the Dorothe and Echbara license areas over a nominal 400m x 25m sampling grid.
With the completion of the 2016 – 2017 field season and the Wet Season rains now commencing, all samples generated have been packed and readied for shipment to a certified laboratory for sample preparation and analysis. Over 10,562 samples (for approximately 15 tonnes of material) have been selected to be submitted for initial assay.
Ongoing field mapping, detailed trench mapping and preliminary portable XRF analysis in the field has provided valuable insights into the style of mineralisation being explored. The strong spatial association of known gold occurrences with late granitic intrusive bodies and through-going fault structures along structurally and/or lithological corridors, Au+/-Pb-Cu-W-As metal signatures associated with known gold prospects, the occurrence of sheeted vein systems and the presence of skarns and hornfels suggests potential for an Intrusion Related Gold System ("IRGS") type exploration model.
This assessment is regionally and globally significant as the Ouaddaï Province could represent a metallogenic belt with possible analogies to the world class Tintina Gold Belt and associated IRGS deposits of Alaska and the Yukon Territory (e.g. Pogo 5.5Moz @ 12.6g/t Au, Donlin Creek 12.3Moz @ 2g/t Au and Fort Knox 8Moz @ 0.9g/t Au).
At Dorothe, a total of 5,204m of trenching has been completed and 4,138 soil samples collected. A total of 9 trenches were dug utilising a track mounted 30 tonne excavator; with the longest single trench (DOR_CH22) being 1.74km long. The trenching programme was primarily designed to assess the extent and average surface grade of the large 3km x 1km artisanal pitting zone, as well as to understand potential controls on mineralisation therein.
Visible gold was reported in spoil from several trenches during the Dorothe programme; in particular in trenches cross-cutting the north-south striking "Main Vein" zone. Assay results are pending.
The Dorothe soil sampling programme was designed to test a structural corridor along the eastern flank of a major north-west striking tectonic contact (potential thrust fault) along which the Dorothe project occurs and new artisanal mining sites have been discovered further north. A total of 4,138 soil samples were collected along the corridor with assay results pending.
At Echbara a total of 5,448m of trenching has been completed and 5,630 soil samples collected. A total of 9 trenches were dug utilising a track mounted 30 tonne excavator; with the longest single trench being 920m. The trenching programme was designed to test a 2km long +100ppb up to 300ppb gold soil anomaly defined by the UNDP and possible strike extensions. A single trench was extended into the marble contact where potential skarn mineralisation and alteration had been observed. Assays results are pending.
The soil sampling programme at Echbara was initially designed to test the schist-gneiss contact zone along the north-western quadrant of the license area where the Echbara Project UNDP +100ppb Au soil anomaly occurs. As the programme advanced, it became apparent that mineral occurrences were associated with the central granitic intrusive body and accordingly the soil sampling programme was extended around this contact zone. A total of 5,630 soil samples were collected with laboratory assay results pending.
Chad Portfolio
Tekton has secured exclusive rights over five exploration permits covering a total of approximately 1,000km2 within the Ouaddaï Province. This is an under-explored yet highly prospective domain within the Saharan Metacraton of Central Africa. The Saharan Metacraton represents an underexplored yet highly prospective gold and multi-commodity-bearing metallogenic Terrain that has potential to host significant new discoveries.
Comprehensive exploration activities have been conducted by Tekton over the last two years. These include geological mapping and soil, rock-chip, trenching and channel sampling. Mineralogical studies, ground magnetic and resistivity surveys, high-resolution Digital Terrain Modelling ("DTM") and aerial photography utilising drone technology have also been undertaken by the Tekton team.
Three highly prospective gold mineralised areas and one advanced exploration target have been defined over the Dorothe, Echbara and Am Ouchar licenses. Additionally, two further highly prospective reconnaissance licenses have been awarded within the same province over the Adé and Nabagay targets.
As part of the Company's consolidation within the Ouaddaï Province, the Waya Waya permits have been relinquished in favour of the Nabagay and Adé reconnaissance permits.
Dorothe
Dorothe is characterised by two significant zones of mineralisation; the north-south striking 'Main Vein Swarm' defined over a 1km strike with potential extensions to 3km, and the north-east trending 'Artisanal Pitting Zone' over a 3x1km area. Previous sampling by Tekton has focussed on the Main Vein Swarm with significant trenching results over sub-vertical quartz veins including 14.12g/t over 4m, 16m @ 3.1g/t, 6m @ 9.5g/t and 1m @ 63.2g/t Au.
The earlier stage quartz vein swarm zone occurs over an approximate 3x1km north-east trending zone at the apparent flexure of a major north-west striking fault, and is clearly defined by extensive artisanal workings into weathered surface rock. The later stage cross-cutting sub-vertical quartz vein swarm has been clearly mapped and sampled by trenching over a 1km strike. This has the potential for further strike extensions to the north and south based on recent artisanal mining.
Of the sampling completed to date, over 40% of the rock chip samples collected at the Dorothe target returned grades over 0.5g/t Au with grades up to 103 g/t, 99.6g/t, 94.5g/t and 82.2 g/t Au. Trenching and channel sampling across strike of the north-south quartz vein system has returned multiple gold intersections over 10g/t Au along a combined 1km strike length, with better intersections of 4m at 14.2g/t, 2m at 34.1g/t, 2m at 31.1g/t and 1m at 63.2 g/t Au. The north-south vein set is not restricted to a single quartz vein, and in places occurs as multiple splays and sub-parallel veins over a 20m to 50m width.
Echbara
The Echbara license covers 199km2 and is situated 25km west of the Dorothe license. Historical work completed by the UNDP during the 1990's defined a 2km long by 150-200m wide 100ppb soil anomaly with highs of 300ppb. Follow-up trenching by the UNDP has returned results of 58m at 1.29g/t Au and 28m at 1.29g/t Au. Follow-up trenching by Tekton returned results of 56m at 0.61g/t Au (including 10m at 0.9g/t Au and 20m at0.87g/t Au) and 25m at 0.8g/t Au. This target has not been drill tested.
The target occurs within micaceous schists bound to the west by quartzites and east by carbonates with interpreted cross-cutting north-west orientated faults. A large, late granitic intrusion occurs approximately 3km to the south-east of the known gold anomaly.
Am Ouchar
The Am Ouchar Project is located 70km south-east of Dorothe. The area has extensive artisanal workings and has significant historic UNDP trenching results including 20m @ 6.8g/t, 16m @ 4.7g/t and 12m @ 5.7g/t gold with individual 2m composite grades up to 33g/t Au. Current mineralisation and artisanal workings are defined over a 250m strike length with gold mineralisation is hosted within 2-5m thick, shallow dipping, north-east trending quartz veins and within the adjacent hematitic schists. Follow-up trenching by Tekton has confirmed historical results with assays including 2m @ 18g/t, 2m @ 14.2g/t and 2.3m @ 9.9g/t Au.
Subsequent soil sampling and portable XRF analysis with selected follow-up laboratory gold analysis has extended the potential strike length of mineralisation and defined additional 'stacked' structures within the project area.
Recently granted reconnaissance licenses covering a total of 395km2 at Nabagay and Adé cover further exciting and highly prospective geological targets within the Ouaddaï South project portfolio. The Adé license, located approximately 40km east of Dorothe, occurs within an interpreted 'pressure-shadow' adjacent to a large 15km diameter late granitic intrusion. Regional soil sampling by the UNDP during the 1990's identified multiple lithium soil anomalies up to 5km in strike length in addition to multiple coincident and isolated gold in soil anomalies adjacent to the granitic intrusive contact. The Nabagay license is located approximately 25km north of Dorothe and is considered prospective for gold mineralisation in similar geological settings to the Dorothe project.
Project access
Access to the project area is via a sealed and well maintained 900km bitumen toll road from the capital city N'Djamena to Abéché, followed by a 200km maintained laterite road to the project area. Travel time from N'Djamena to the project area is approximately 15 hours by road. International air carriers Air France, Royal Air Maroc, Turkish Airlines and Ethiopian Airline facilitate frequent travel into N'Djamena. The project area is serviced by charter flights and UN aircraft into Goz Beïda, with travel time of approximately 2 hours.
About Chad
With a population of 13.6 million (World Bank, 2016), Chad covers a surface area of 1.2 million km2. It is a stable Republic with a US$2,500 GDP per capita per annum (2013 estimate), is a member of the OHADA and EITI, and has a projected economic growth of 11.2% (African Economic Outlook, 2014). Major oil companies including Total, Exxon, Chevron and Glencore have been active in Chad for several decades and the region is a major oil producer and refiner for the domestic and international markets.
Chad has an attractive Mining Code and investment framework. Mineral exploration licenses are granted for 5 years and are renewable twice for a total of 10 years. Mining licenses are granted for a 25-year term and are renewable. The licenses offer a tax holiday period up to a maximum of 10 years and a corporate tax rate of 35% (negotiable). The State has the right for a 10% free carry and 2% royalty.
The Board is delighted with the progress that the Company has made in 2017 and looks forward to keeping shareholders updated as further news becomes available.
If anyone reads this article found it useful, helpful? Then please subscribe www.share-talk.com or follow SHARE TALK on our Twitter page for future updates.
All information is provided on an as-is basis. Where we allow Bloggers to publish articles on our platform please note these are not our opinions or views and we have no affiliation with the companies mentioned