The UK government is set to cut its stake in RBS, a decade after bailing out the lender.
The Treasury is set to sell 925 million shares, reducing its holding from 70.1% to 62.4%. The government has said it intends to sell £15bn worth of RBS shares by 2023. The lender has been majority owned by the government since a £45bn bailout in 2008, during the financial crisis. Last month, RBS announced it would close 162 branches this summer, axing nearly 800 jobs.
The government owns 8.4 billion shares in RBS, which closed on Monday at 281.1p, valuing the bank at £33.8bn.
The disposal will take place this week in a process managed by investment banks Morgan Stanley, Citigroup, Goldman Sachs and JPMorgan, according to UK Government Investments, which manages taxpayers' RBS stake.
The government has said it intends to sell £15bn worth of RBS shares by 2023.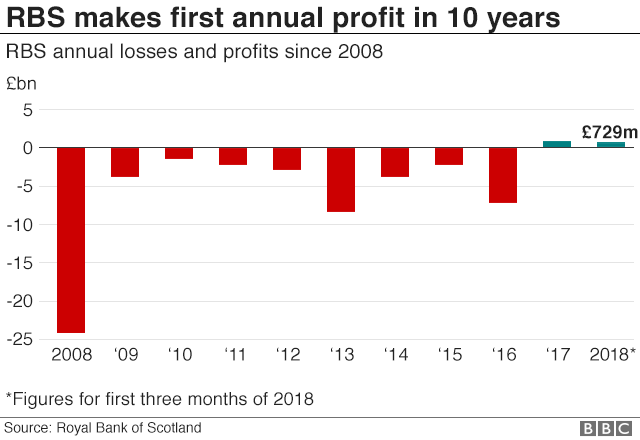 Labour's shadow chancellor, John McDonnell, criticised the government's sale plans, saying there was "no economic justification" for selling the shares.
"There should be no sales of RBS shares, full stop. But particularly with such a large loss to the taxpayers who bailed out the bank," he said.
'Normal bank'
Laith Khalaf, senior analyst at Hargreaves Lansdown, said: "The RBS share price has bounced back from its slump after the EU referendum, but the taxpayer's still going to be significantly out of pocket as the government sells down its stake.
"The RBS bailout was necessary to maintain financial stability, but the cost of that intervention is now starting to emerge."
He added: "RBS has cleared several obstacles which have now unblocked the road to re-privatisation, in particular settling claims for mis-selling mortgage-backed securities in the US.
"Today's share sale is good news for private investors in RBS, because it is a step towards becoming a normal bank again, though government sales may put downward pressure on the share price in the near term."
In February, the bank posted an annual profit of £752m – its first for a decade and a dramatic turnaround following a £6.95bn loss the previous year.
Last month, RBS announced it was closing 162 branches across England and Wales.
The closures follow existing plans to shut 52 bank branches in Scotland that serve rural communities and 197 NatWest branches.
If anyone reads this article found it useful, helpful? Then please subscribe
www.share-talk.com
or follow
SHARE TALK
on our Twitter page for future updates.
Terms of Website Use
All information is provided on an as-is basis. Where we allow Bloggers to publish articles on our platform please note these are not our opinions or views and we have no affiliation with the companies mentioned
---