Botswana focussed metals exploration company Kavango Resources plc (LSE:KAV) ("Kavango") has completed drilling on Kalahari Copper Belt ("KCB") licence PL082/2018 ("PL082").
KEY FINDINGS
–  Kavango drilled a total of 1,885.59m across seven holes using a combination of Reverse Circulation ("RC") and diamond drilling
–  KCBRD007 was drilled as a replacement to KCBRD006, at no additional cost to the Company, following significant deviation in the original hole
–  Drilling was targeted by Controlled-Source Audio Magnetotelluric ("CSAMT") survey data and soil sampling data.  The program confirmed two out of three technical objectives and has made significant progress on the third.
1)  Anticlines and synclines were correctly identified by CSAMT on PL082. This agrees with the interpretation of PL082 by expert KCB consultant Dave Catterall of Tulia Blueclay Limited. Mr Catterall has been consulting to Kavango since October 2022.
2)  Zones of structural disturbance, brecciation and alteration were clearly interpreted via CSAMT and then confirmed in drill core, in particular in KCBRD005. Kavango's geologists observed evidence of fluid flow, with consequent alteration.
3)  The final test was to intersect the interpreted Ngwako Pan / D'Kar contact.  A massive sandstone unit was intersected from 540.10m to end of hole in KCBRD007.  Although the contact was not intercepted, the massive sandstone unit matches the resistive signature on the CSAMT inversion.  Kavango has concluded that in PL082 the D'Kar/Ngwako Pan contact lies at a greater depth than interpreted from CSAMT data, and that the CSAMT is successfully identifying stratigraphic boundaries.
–  Kavango has sent samples from holes KCBRD005 and KCBRD007 to an internationally accredited laboratory to verify metal values
NEXT STEPS
–  Mr. Catterall's interpretation of wider sedimentary geology in the KCB indicates that the D'Kar/Ngwako Pan contact lies closer to the surface on Kavango's four prospecting licences to the west of PL082 near the Namibian border
o This has been supported by Kavango's initial examination of its CSAMT and Airborne Electromagnetic ("AEM") survey data
o Further work is required to test this interpretation
–  Kavango has now reclassified these licences as the top strategic priority for its KCB exploration programme
Brett Grist, Chief Operating Officer of Kavango Resources, commented:
'Kavango's KCB exploration has been testing targets by applying both conventional methods and innovative geophysics to push boundaries and identify exploration opportunities.
The northern geochemical anomaly on PL082 was a significant target, over which CSAMT had identified a significant, steep zone of structural disturbance and alteration. This was successfully intersected in hole KCBRD005 with evidence of fluid flow and alteration, although metal values were not present at elevated levels at the depths tested.
We had then aimed to intersect the D'Kar/Ngwako Pan contact and possible mineralisation. Drilling on PL082 has indicated that we are higher in the D'Kar sequence than we had originally interpreted.
This means we can make a clear decision to pause work on this licence for now and move to other targets that now appear more prospective, and which we have been working on in parallel to this drill campaign.
A recent geological review by Kavango, led by experienced local geologist Dave Catterall, has concluded that our four prospecting licences near the Namibian border offer evidence of shallower stratigraphy. Adjacent property holder ENRG Elements' (ASX:EEL) licences are understood to host signs of mineralisation and of domal structures.
This area will now become the top priority for Kavango's KCB exploration program. We will publish preliminary results of the review imminently.'
PL082 drilling details
Drillhole KCBRD005 successfully identified brecciation and alteration in the target zone predicted by Kavango's CSAMT and geochemistry data. This was the first hole Kavango has drilled in the KCB to be targeted principally using CSAMT, and encountered an intense zone of brecciation and shearing intermittently from 379m to the end of hole at 497.55m.
Kavango's geologists observed evidence of fluid flow, with consequent alteration. Indicative peak pXRF values appear to be at a normal level for the area, typically in the 100-200ppm range for lead and copper. The pXRF data will be further verified through laboratory analyses.
Kavango's final phase of drilling (announced >>> 13 January 2023) consisted of two holes, KCBRD006 and KCBRD007.
These were designed to target D'Kar/Ngwako Pan formation contact interpreted by the Company from the inversion results of its Line 6A CSAMT survey on PL082/2018 (announced >>> 16 December 2022).
This interpretation was calibrated from the inversion results of Kavango's Line 4A CSAMT survey, which crossed the Kronos target zone on Sandfire Resources' (ASX:SFR) neighbouring licence to the SE. Kavango's interpretation suggested that the horizon hosting the Kronos target zone over the Company's licence boundary and across PL082/2018 is a syncline.
With KCBRD006 and KCBRD007, Kavango was testing for favourable host geology in the form of the D'Kar/Ngwako Pan formation contact interpreted from resistivity highs in its CSAMT. KCBRD007 was redrilled adjacent to KCBRD006, with the redrilled section at the drill contractor's cost, due to deviation issues with KCBRD006. This additional drilling extended the total length of Kavango's PL082 drilling campaign by around two weeks.
Core from KCBRD007 showed some veining, parasitic folding and shearing and minor background (pXRF) levels of lead, zinc, and copper, with occasional grains of galena (lead sulphide) observed in core.
Kavango's geologists have concluded that the lithologies intersected in KCBRD007 likely represent the middle D'Kar formation. The Company's exploration team now considers the Ngwako Pan formation contact is located several hundred metres deeper.
On this basis, Kavango has discontinued the hole so that its resources may be focussed on exploring other areas of its KCB licence package.
The Company will now submit samples of drill core from altered sections encountered in holes KCBRD005 and KCBRD007 to an independent laboratory for further verification of metal values.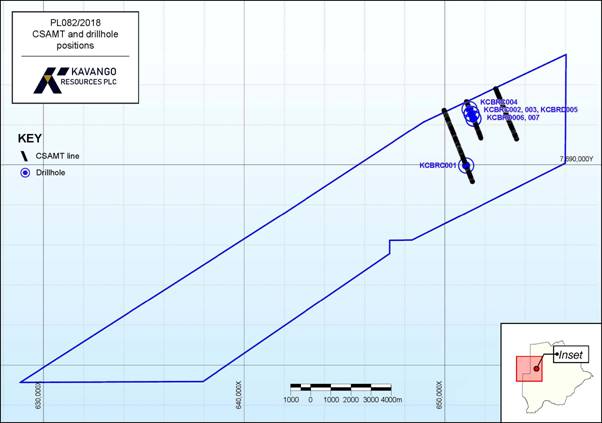 Figure 1:  Kavango licence PL082/018; CSAMT and drillhole positions
Figure 2: Kavango licence PL082/018; pXRF soil geochemistry and drillhole positions
HoleID

Azimuth

Dip

Total depth (m)

RC (m)

DD (m)

Comment

KCBRC001

340

-60

153.00

153.00

Drilled to 153m, weak alteration and pyritic zones seen, remains open for possible future extension

KCBRC002

340

-60

9.00

9.00

Halted due to hole collapse. Re-drilled as KCBRC003

KCBRC003

340

-60

255.00

255.00

Completed to planned depth as RC, however risk of collapse so DD not continued

KCBRC004

160

-80

133.00

133.00

Ended due to high volumes of water

KCBRD005

340

-60

497.55

89.80

407.75

Redrill of KCBRC003. Successfully intersected target brecciated zone and alteration/veining

KCBRD006

340

-80

237.15

103.60

133.55

Excessive deviation; redrilled as KCBRD007 at contractor expense

KCBRD007

 

340

-80

600.89

90.80

510.09

Completed as planned, ended at 600m

 

Program Total

 1,885.59

834.20

1051.39
Figure 3: table of holes drilled
Kavango Resources plc     
Ben Turney
If anyone reads this article found it useful, helpful? Then please subscribe
www.share-talk.com
or follow
SHARE TALK
on our Twitter page for future updates.
Terms of Website Use
All information is provided on an as-is basis. Where we allow Bloggers to publish articles on our platform please note these are not our opinions or views and we have no affiliation with the companies mentioned
---