Botswana focussed metals exploration company Kavango Resources plc (LSE:KAV) ("Kavango") is pleased to announce the Company has interpreted inversion results from the Controlled-Source Audio Magnetotelluric ("CSAMT") Line 4A survey ("Line 4A"), which extended over Sandfire Resources' (ASX:SFR) Kronos copper target zone ("Kronos").
Kavango successfully identified the D'Kar/Ngwako Pan contact at Kronos from surface using CSAMT.
By using a known copper occurrence in the vicinity of PL082/2018, Kavango has developed an important control in its calibration of its CSAMT technology in the KCB. Subsequent interpretation of the Line 4A CSAMT data has encouraged the Company's technical team to expand the current drill programme beyond the1,250m originally planned.
Further updates on progress and upgraded targeting will be made in the New Year.
Highlights
· Line 4A CSAMT results overview
§ Kronos occurrence identified clearly as sedimentary beds that dip shallowly to the northwest across the PL082/2018 licence border
§ Key D'Kar/Ngwako Pan formational contact pinpointed <200m from surface at Kronos
§ The key D'Kar/Ngwako Pan contact can be traced onto Kavango's licence, where is follows a syncline and dips back towards surface near the northwest edge of the licence.
§ Kavango is confident similar results can be replicated across the KCB
§ Results reviewed by an independent third party with regional KCB geology experience
§ Results shared with Sandfire Resources and positively received
· Drilling programme update
§ Drill programme to be extended, final meterage to be confirmed
§ Drill programme to continue to Christmas break and recommence in New Year
§ Cores and rock chip samples currently being logged and interpreted to assess potential vectors indicating the proximity of a potential mineralising system
§ Kavango to use newly acquired CSAMT and Airborne Electromagnetic ("AEM") data to refine next phase of drill targets
Jeremy S. Brett, Senior Geophysical Consultant to Kavango Resources, commented:
" The Line 4A CSAMT results represent a technical breakthrough for Kavango. The successful imaging of the D'Kar/Ngwako Pan contact at the Kronos occurrence should allow us to develop CSAMT as a powerful exploration tool in our exploration for copper/silver mineralisation in the Kalahari Copper Belt.
CSAMT appears to identify the contact between the low resistivity D'Kar formation rocks and the substantially more resistive Ngwako Pan formation.  When combined with AEM, which is routinely deployed in the KCB, there appears to be tremendous potential that these are very complementary electromagnetic systems. We now believe that AEM conductors within the D'Kar can be distinguished from the highly desired conductors at the Ngwako Pan contact. Our goal is to test this theory with drilling.
If proved to be successful, Kavango's CSAMT method could save a lot of drilling metres and allow for the evaluation of the fold structures within the KCB in section, thereby determining the depth to the critical Ngwako Pan contact
Based on the technical success of the combined CSAMT and AEM results so far on PL082 and our ongoing interpretation of what we have already seen in drilling, Kavango has decided to extend the current drill programme into the New Year to continue to refine the application of this new method. This new tool will continue to develop. " 
Line 4A CSAMT detailed results
Line 4A was extended beyond the boundary of PL082/2018 to the southeast and onto Sandfire ground that hosts the Kronos occurrence, with the permission of Sandfire Resources (ASX:SFR).  As Kronos is known from historical drilling to lie at the D'Kar/Ngwako contact zone, Kavango's objective was to use the target zone as a known geology calibration point for the CSAMT to confirm the D'Kar / Ngwako Pan contact signature on PL082/2018.
Data from Line 4A highlighted a very distinct, shallowly to moderately dipping geological folded zone within PL082/2018 known as a "syncline", defined as folded sediments dipping southeast and northwest towards a central axis.  Steeply dipping brittle faults cross this syncline structure.
Kavango has now received inversions for CSAMT data acquired over a total of 4 lines on PL082/2018, each showing this same syncline fold structure.
Kronos is defined clearly on Line 4A as sedimentary beds that dip shallowly to the northeast across the Kavango licence boundary, continue across PL082 as deep as 650m, then dip back up towards the surface on the Northwest limb of the identified syncline.
Kavango interpreted the inversion as a signature for the presence of the crucial D'Kar/Ngwako Pan formational contact from the Kronos target zone to the northwest edge of PL082/2018. This formational contact is the primary control for economic copper/silver deposits across the KCB. Kavango is currently considering a new drill hole to target this specific horizon, as it could represent a significant strain breccia zone that may have acted as a conduit for fluid alteration.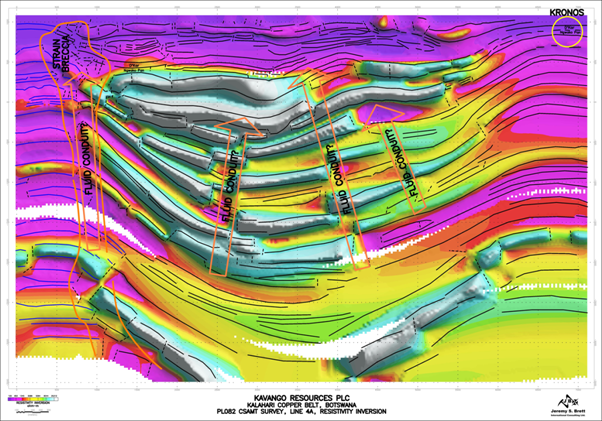 Figure 1: Line 4 CSAMT inversion, viewed northeast, showing interpreted continuation of shallowly northwest dipping sedimentary beds, hosting Sandfire's Kronos occurrence, that propagate onto Kavango's PL082 licence in the KCB. There is clear resolution of a syncline with significant cross faults that could act as fluid conduits. The sediments dip back towards surface on the northwest ends of the syncline, on Kavango's licence.
The inversions from Line 4A have greatly exceeded Kavango's expectations. They provide verification of CSAMT surveys as an exploration tool in the KCB, showing that critical D'Kar -Ngwako Pan contact should be resolvable on the Company's licences.
Another key observation from Line 4A was of prominent brittle structures crossing the folded sediments of the synform on PL082, originating from several kilometres in depth and propagating to the near surface. These have been interpreted as probable conduits for hydrothermal fluids and alternation that could potentially lead to mineralisation at the Ngwako Pan contact.
Next steps
The northwest edge of the syncline on PL082/2018, as elucidated by Line 4A, has been initially tested with Hole KCBRD005, which was originally sited on the basis of surface geochemical soil anomalies.
The CSAMT results from Line 4A suggest that the Company is targeting a priority structure, in line with the Company's existing drill strategy for PL082/2018 (announced >>> 20 October 2022). A probable folded and brecciated zone was encountered in Hole KCBRD005, at the c.350m depth indicated by the interpretation of the Line 6A CSAMT inversion. Kavango has therefore engaged a KCB experienced local geological contractor to re-log and analyse cores and rock chip samples taken from the first phase of drilling.
Kavango's aim with the relogging is to confirm the presence of physical and geochemical exploration vectors that could indicate the proximity of a potential mineralising system to the recent drilling. The Company believes this work will assist it in deciding its next drill target location.
The Company's KCB drill programme will pause shortly for the Christmas holiday and continue in the New Year on a new exploration hole.
Should core relogging confirm the Company's current understanding of what it has encountered in Hole KCBRD005, it is likely the next exploration hole will be targeted on the basis of (i) proving that the inverted CSAMT data is effective in identifying the D'Kar/Ngwako Pan contact on the northwest limb of the syncline, (ii) verifying interpreted fault structures, and (iii) determining if these targets are altered and mineralized.
Kavango's technical team will continue to work on processing and interpreting previously and newly acquired CSAMT and AEM data across its portfolio of KCB prospecting licences to assist with improved target resolution.
Kavango will publish full drill results at the end of the campaign, once all data has been processed.
Further information in respect of the Company and its business interests is provided on the Company's website at  www.kavangoresources.com  and on Twitter at #KAV.
For further information please contact:
Kavango Resources plc   
Ben Turney
If anyone reads this article found it useful, helpful? Then please subscribe
www.share-talk.com
or follow
SHARE TALK
on our Twitter page for future updates.
Terms of Website Use
All information is provided on an as-is basis. Where we allow Bloggers to publish articles on our platform please note these are not our opinions or views and we have no affiliation with the companies mentioned
---