Around 60 bank branches close every month in the UK, new research has revealed. From2015 to the end of this year, some 2,868 branches will have closed, with RBS being the biggest culprit, consumer group Which? found.
It found that 2,868 branches will have closed between 2015 and the end of 2018, with the number accelerating this year.
RBS will have closed 350 branches over the 2015-2018 period, as well as 638 NatWest and 35 Ulster Bank branches. The banks put the closures down to lack of demand for in-branch services, as more people choose to bank online. Which? however, said the "alarming" trend is leaving many people without proper access to services.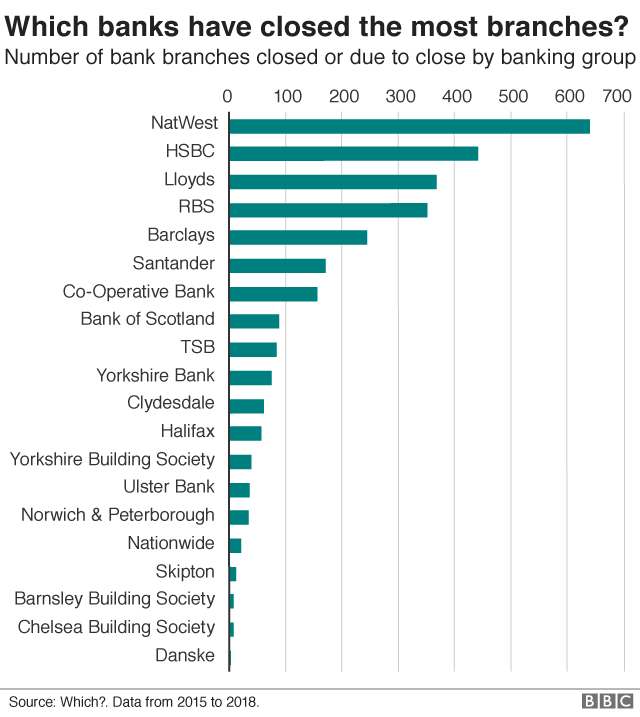 According to Which? the worst offenders are:
RBS, which will close 350 of its own branches in 2015-2018, as well as 638 NatWest branches and 35 Ulster Bank branches
Lloyds, which is closing 366 of its own branches, 87 Bank of Scotland branches and 55 Halifax branches
And HSBC, which will close 440.
By region, Which? said Scotland had been worst hit, with 368 branches due to have shut by the end of 2018.
That was followed by the South East (361), the North West (353) and South West (327)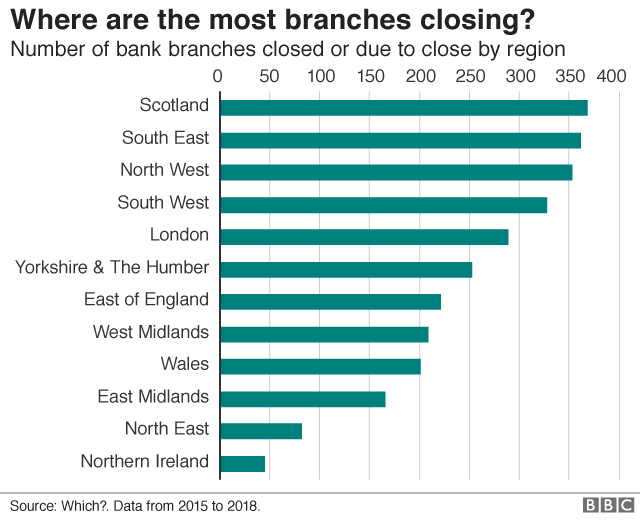 Which? money expert Gareth Shaw said: "While the decision is clearly a commercial one for a bank to take, it is also crucial that banks do recognise the needs of their customers and the communities they serve, before simply shutting their doors – and their customers out."
In 2015 banks signed up to the Access to Banking Standard – an industry-wide agreement that they must consult with customers about closures and inform them of alternative services.
But Which? said that while Post Offices and mobile banking trucks were often suggested, they did not offer the same range of services or convenience as branches.
Meanwhile, it said many people "cannot" or do not want to use online services.
An RBS spokesman said: "Since 2014 the number of customers using our branches across the UK has fallen by 40% and mobile transactions have increased by 73% over the same period.
"As customers continue to change the way they bank with us, we must change the way we serve them, so we are investing in our branches and re-shaping our network, replacing traditional bricks and mortar branches with alternative ways to bank."
A Lloyds spokesman said branches played an important role in customers' lives, but added: "It is important to have branches in the right places, where there is customer demand."
A spokesman for UK Finance, a banking industry group, said decisions to close branches were only ever taken after all other options – like reducing opening hours and staff numbers – had been exhausted.
"Technology is not for everyone which is why all the major banks offer day-to-day banking services through 11,500 Post Office branches," it added.
Banks have also been shutting cash machines at a rapid rate.
In January, Which? identified more than 200 communities in Britain with poor ATM provision, or no cash machines at all.
It comes as banks seek to cut costs and the industry argues there are too many ATMs in places they are not needed.
If anyone reads this article found it useful, helpful? Then please subscribe
www.share-talk.com
or follow
SHARE TALK
on our Twitter page for future updates.
Terms of Website Use
All information is provided on an as-is basis. Where we allow Bloggers to publish articles on our platform please note these are not our opinions or views and we have no affiliation with the companies mentioned
---